Airbus - Updating the suspended crane platforms to meet conformity regulations
Intervention on the roof terraces of the Airbus Defence and Space site in Toulouse. The work consisted of placing saltire crosses at regular intervals along the roller track before modifying the anchors on the base studs.
To overcome the site's limitations, Entreprise BEAR improvised a workstation using mobile mounts already on site. This then allowed us to use a magnetic drill, which made the rest of the intervention much more efficient.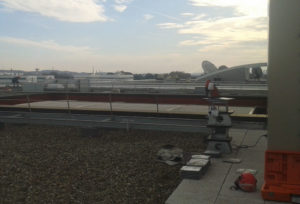 Château de Thuir – Réfection de la toiture
Intervention sur la Villa Palauda suite à une tempête qui a fait tomber un arbre sur une des extensions de la villa. Après le travaille de débitage de l'arbre, il a fallu refaire la charpente et tout le système d'évacuation des eaux ainsi que la toiture.
Total - Roof access security
Intervention on the Boussens core repository. Most of the work related to preparing the lifelines. We also installed a cage ladder and a handrail system on access side of the building. The objective was to ensure the safety of crossings.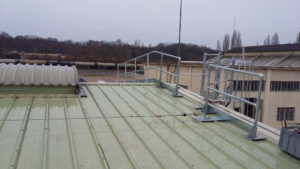 L'objectif des travaux était de pouvoir contrôler les systèmes d'évacuation des fumées. Dans ce sens, il a fallu poser des lignes de vie de chaque côté du faîtage.  De part sa longueur, de plus de 200 mètres, des joints de dilatation étaient présents. Il a donc fallu prévoir 3 sauts de loups pour permettre de traverser le bâtiment de part en part.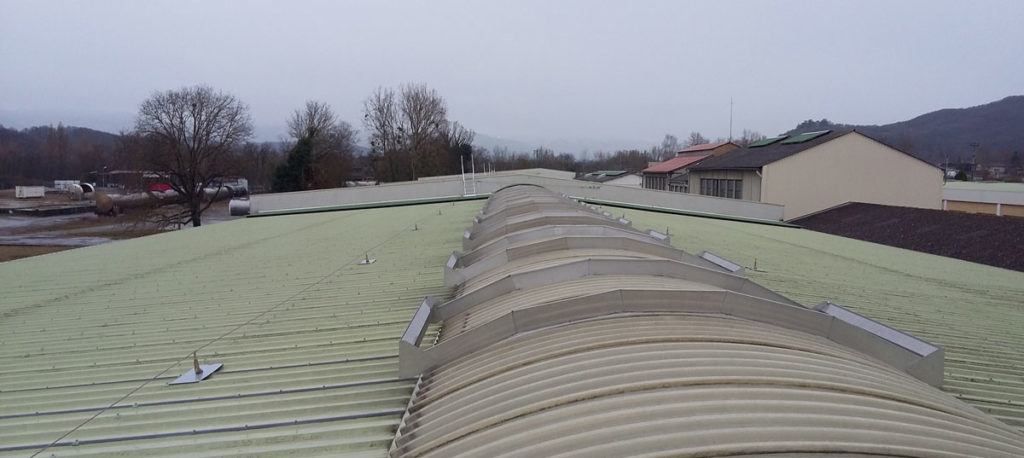 Cémoi - Securing workstations
Intervention on the Cantalou site in Rivesaltes. Our mission was to integrate a security system into existing complex machinery.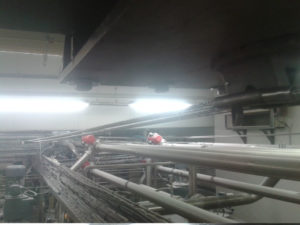 Entreprise BEAR had to overcome a number difficulties. The first was to impact the production lines as little as possible. The second was compliance with the health and safety regulations associated with the site, namely the wearing of hygeine caps and overalls.